The unprecedented times we are in has meant that most in urban India are spending more time at home.
As a result, commerce and retail have seen a surge in more consumers moving online – leading to more frequent and deeper engagement with brands across every member of the household.
As both an engaged retail consumer and a keen observer of behavioral trends, I am intrigued by this accelerated shift from offline to online. In addition, as an entrepreneur who also works with many founders and small business owners across Direct to Consumer (DTC) categories at the crux of this transformation, it was a great opportunity to explore this topic in greater detail. So PipeCandy and GetVantage put their heads together to unravel: The Impact of COVID-19 on DTC in India, and what the 'new normal' represents.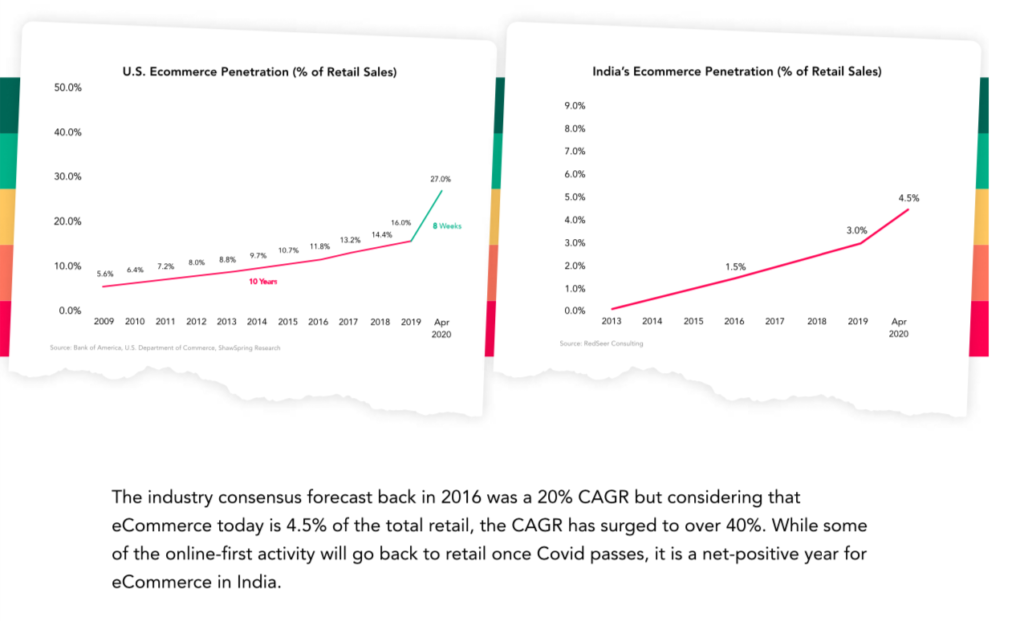 Here are some key highlights from the report for your easy reference. I am certain your audience would love a peek into these findings.
In the US, eCommerce grew as much in the last 6 months as it did in the last 7 years. India too is having a moment of reckoning. We took four years to grow from an eCommerce penetration of 1.5% to 3% and then less than 6 months to go from 3% to 4.5%.
Much of India's eCommerce growth story can be attributed to platforms like Amazon, Flipkart, aggregators like BigBasket, Swiggy, and entertainers like Netflix and Hotstar.
But India's next phase of growth could be that of homegrown billion-dollar brands that are digital natives. We analyzed nearly 1,500 of them in a 'first of a kind' study.
Between H2 of 2019 and H1 of 2020 (until June 2020), the median fall in web traffic for D2C brands is 17%

But July was the month of recovery. The median traffic grew by 57%.
The worst for Indian D2C brands was over by April. Brands stopped hemorrhaging from May. They recovered well in June and are in July they are back to normal – just in time for the festival season
Fast fashion, Fitness, Grocery, and General Merchandise have all grown an impressive 100%+ in traffic in July signaling a strong comeback.
A GetVantage view: The recovery signals the 'coming of age' of eCommerce in India, especially given that the categories that are showing immense resilience are the conventional, everyday categories and not 'new-age' ones. This means eCommerce in India is no longer an afterthought for brands or a nice to have, but a must-have going forward. Ashwin Ramasamy, the co-founder of PipeCandy concurs with this view and he adds that the recovery is broad-based across almost all 33 categories tracked. However, he urges that brands look beyond the top marketplaces and cultivate direct relationships with their consumers.